CNC – Key parts of a CNC VMC/HMC fixture
The construction principle of all fixtures is common. All fixtures consist of locators, clamps and supports, and a body which holds all these together.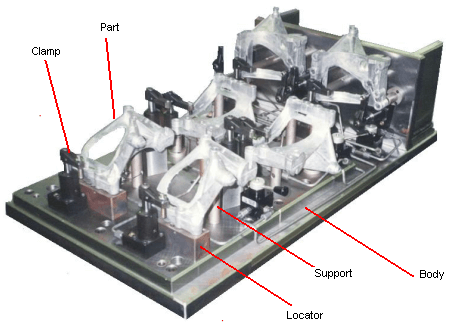 A CNC VMC fixture
A locator is used to establish and maintain the position of a part in the fixture by constraining the movement of the part. The locator can also be adjustable if the part has variability in shapes and surface condition, like in a casting.
A clamp holds a part securely in the fixture against cutting forces and other external forces like gravity.
A support prevents displacement or deflection of the part due to clamping and cutting forces.
The body is the major structural element of a fixture. It holds the locators, clamps and supports. It also keeps these at appropriate distances from each other and from the machine tool.
Etc.
The battle of Banganapalle
For years now our family has been fighting a mango war with a mob of marauding monkeys (hereinafter called the MMM). We have a couple of great Banganapalle mango trees in the garden that yield a lot of fruits, but they've always been eaten by the MMM. 'Eaten' is not even the word – the crop is actually destroyed. Its not like the monkeys eat a full mango or multiple mangoes till their stomachs are full, and then let out a satisfied burp. Each monkey will pluck one mango, take a little bite of it, then chuck it on the ground (which is 10 m. down), causing it to split into pieces. It will then do this with another one, and another one, and so on.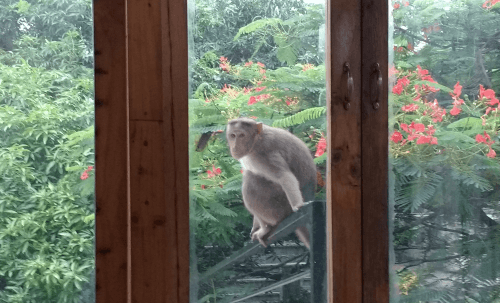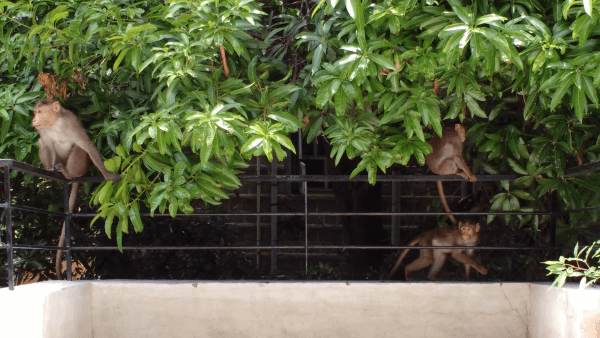 Monkeys on our balcony – the mango tree hangs right over it
All this while we watch from down below with blood pressure rising, and the monkeys watch us with glee and wait for us to pop it of a heart attack. Their glee would of course reduce if they knew that there's a big hospital just 2 km. away from our home, and the popping is unlikely to happen even if we have a heart attack.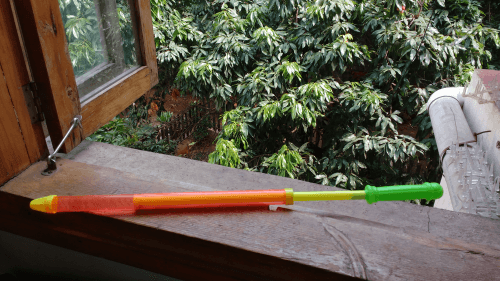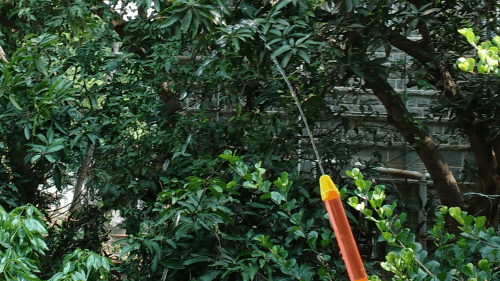 Pichkari – the deadly new weapon
This happened every year, but I'm glad to announce that we finally won the battle this year. My wife came up a great idea, a deadly weapon, the pichkari (the word for water gun in Hindi) that's used in Holi. This thing shoots out a jet of water that travels 10 m. Whenever we see a monkey on the tree, we just give it a squirt. This is enough to make it flee, a bath being a dirty word in the monkeys' vocabulary.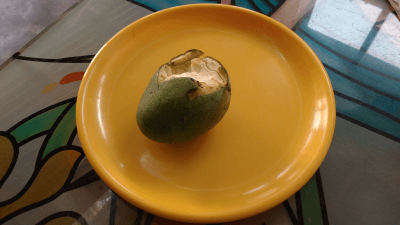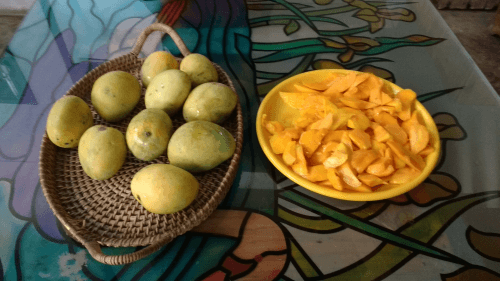 A half eaten mango, and the crop we snatched from the jaws of the MMM
As a result of this deadly new weapon and battle tactic, this year we actually managed to get a huge crop of mangoes that we've been gorging on for the past few weeks.
Banganapalle is a popular type of mango in the South, named after the town where it originated, Banganapalle in the state of AP. It has a GI (
Geographical Indication
) tag, which means our mangoes can't even call themselves Banganapalles.