CNC: Morse taper – the inside story
Morse tapers are very commonly used in both CNC turning centers and CNC machining centers. Here is an explanation on what a Morse taper is. A taper is of course the best way of achieving concentricity between two components. Mating cylinders necessarily need to have a clearance, the male being of smaller diameter than the female. This clearance causes an axial shift between the parts. Mating tapers with the same angle, on the other hand, are forced to be on the same axis.

Holding tapers are of two types – self-holding and self-releasing. In self-holding tapers the male is pushed into the female with force and the two parts bind with each other because of friction. The forces of hole machining operations (drilling, reaming, etc.) can be resisted without a drawbar, and the tool will stay in the spindle when idle. It is driven out with a wedge when a tool change is needed.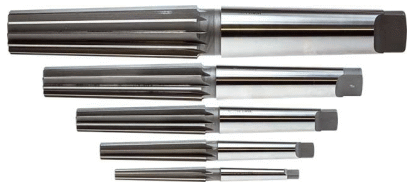 Reamers with Morse taper shank (I wonder if people not connected with Mechanical engineering think "These Mechanical engineering types are obsessed with sex, even at work – disgusting people"). In self-releasing tapers, the male will not stick in the female without a drawbar holding it in place. The Morse taper is a self-holding taper, while CAT, ISO, BT, etc. are self-releasing tapers. The Morse taper was invented in 1864 by Stephen Morse, a mechanic who was looking for a better way to drill holes in the USA. He patented the method and started the Morse Twist Drill and Machine Company. It still exists, as Morse Cutting Tools. In fact, 2 sets of master gauges of the taper were initially made. One is in the Bureau of Standards in Washington, D.C., National Standard. The other remains with the Morse company. Morse tapers come in 8 sizes, #0 to #7. The angle is approx. 1.5 degrees, and is different for different sizes. The large dia. (dimension A in the picture) varies from approx. 9 mm to 83 mm, 9 corresponding to #0.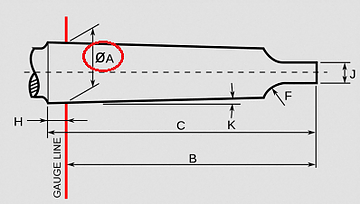 While browsing the web one day I found to my surprise that Morse tapers are commonly used in orthopaedic implants too, like in the artificial hip joint in these pictures.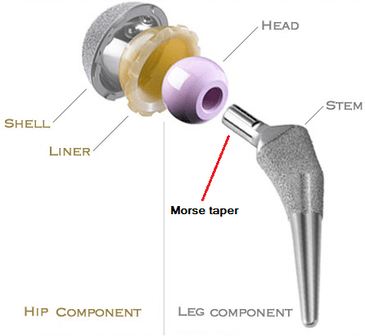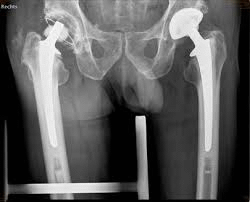 Text source: CADEM NCyclopedia multimedia CNC training software.

Want to reduce waste of machine capacity in your shop floor, improve profits via Industry 4.0 ? Check out our LEANworx CNC machine monitoring system. You start seeing big results in just a couple of weeks.
Want to just learn what Industry 4.0 is ? We have a great blog on what is Industry 4.0.
Etc.
Litti Chokha at the Potbelly cafe
I recently had a very nice Bihari dinner in Delhi at a restaurant called the Potbelly, that has lovely ambience and great Bihari food (I only hope that the name wasn't inspired by my pot belly).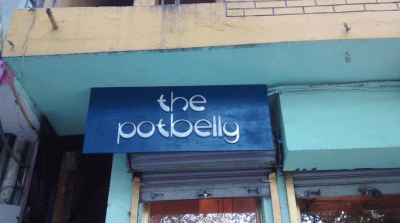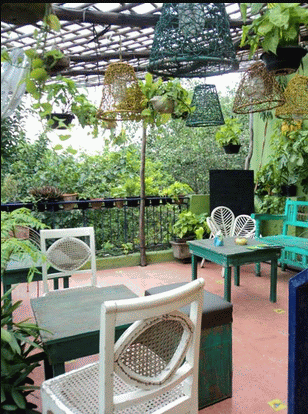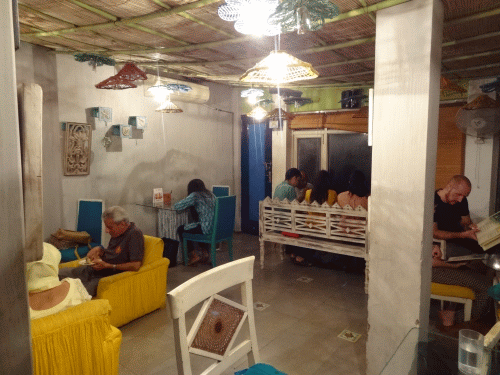 Had Litti Chokha, a very simple but interesting dish. The Litti is a spherical shell made of wheat, stuffed with spicy sattu (gram flour). The chokha is a baingan ka bharta (mash of roasted brinjal, onions and tomatoes). It played an important part in the 1857 War of Independence. Because it is so simple to make, it was the favourite travel meal for small clandestine armies – no need for water or utensils, only needed a small fire for a short while, and could stay for two or three days. If you don't want to use a fire, you can even sun bake the Litti.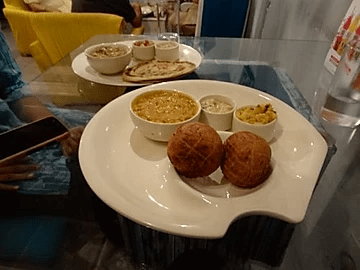 Litti Chokha

Bengal gram, and Sattu
The Potbelly has a large menu of Bihari food, including Aloo Lalu Chop (named after the infamous Lalu Prasad Yadav) and Phish Phingers – (which is how Fish Fingers are pronounced in Bihar).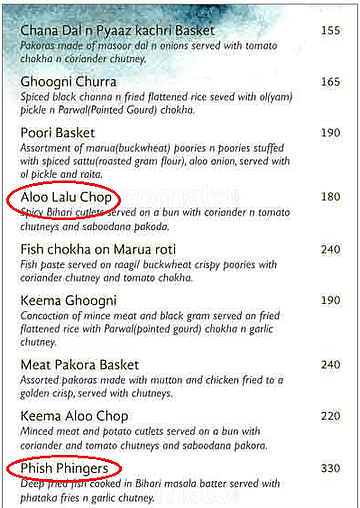 Bihar, like any of the other states in India, has 3 or 4 distinct cuisines. The 29 states and 7 Union territories probably have more than 150 distinct cuisines, and thousands of individual dishes, ranging from pure vegetarian to hardcore carnivorous (including rats, monitor lizards and dogs). A foodie's heaven !