CNC: Is your machine sleeping a lot due to breakdowns ?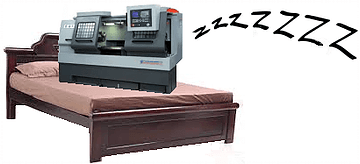 Typically, when there is a machine breakdown on the shop floor, this is what happens:
The operator goes searching all over the shop floor for the supervisor to report the problem, can't find him, and returns to his machine. The supervisor, who was in Process planning for a clarification, returns after 15 minutes. The operator reports the problem, and the supervisor then goes to the Maintenance department to report the issue. There's nobody in Maintenance because everyone is attending to problems elsewhere. He finally finds someone after 15 minutes, reports the issue. So by the time the maintenance person comes to the machine, half an hour has gone by. It then takes 2 hours to do the repair.
Your machine is sleeping all this while – that's a huge downtime.
Action point
A Machine monitoring / MES system can help you reduce down time due to breakdowns. In LEANworx machine monitoring software, for example, the moment a machine breaks down, the Maintenance Manager (or whoever you choose) gets a message on his mobile phone. LEANworks then notes the time taken to attend to the issue and time to repair. It shows you trends of maintenance numbers every month – MTTA (Mean time to assist), MTTR (Mean Time to Repair) and MTBF (Mean Time Between Failures). You can track these numbers, improve systems, and reduce downtimes. LEANworks is an Industry 4.0 system that can support a variety of Industry 4.0 applications, and also has inbuilt capabilities of TPM software and OEE software.
Etc.
Hay in Haryana
Travelling on the roads in rural Haryana in a cab recently, I kept seeing these nice looking conical things in fields. I asked my cab driver Eshwar (who lives in a village near the town of Kaithal) whether they were for storing grain. He (after thinking "Doesn't this city-slicker idiot know that harvesting was done 3 months ago and grain is sold immediately after the harvest?"), said they were stores of hay. After the harvest is done and the grain is removed, the rest of the plant (stalk, leaves) is stored away for use a fodder for cattle, tied into these pillars. The hay is removed whenever required, mixed with fresh grass, and fed to cattle. The other dark brown pillar is a similar store of cow dung cakes. Cow dung is patted into flat cakes, dried, and stored for use a fuel for cooking in homes. A neat, environment-friendly, self-sustaining system.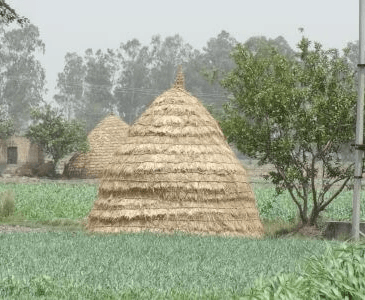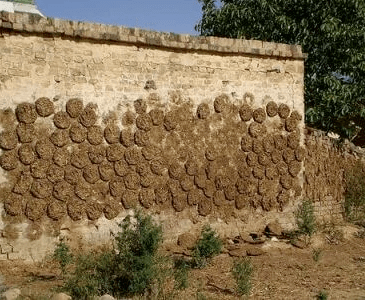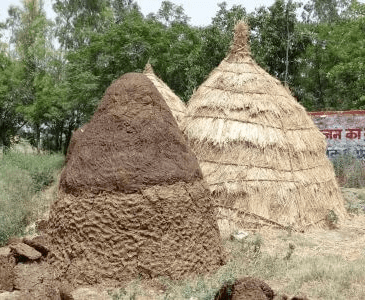 Cowdung cakes drying
The hay, that has a large volume but low weight, is transported in these hay carriers that I saw on the roads – large canvas bags mounted on tractors. They even carry their own ladder around, like the one on the highway in the picture below.