CNC: CADEM CNC Gyan videos – short movies on the basics of CNC Turning
We at Cadem just made a series of short videos to help people self-learn CNC Turning.
The 8 videos cover Machine construction, machining operations, cutting tools, cutting parameters, etc.
You can learn the basics of CNC Turning in 1.5 hrs, less time than it takes to see a movie.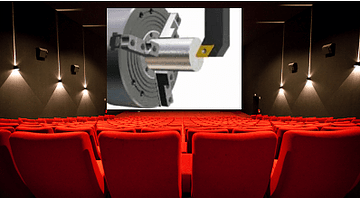 The idea is to simplify CNC technology, speed up its learning, and cover topics like cutting tools and cutting parameters that are extremely important but rarely taught in the formal or informal CNC training that is available to people. Formal being educational institutes and CNC training centres, and informal being learning on the job on the shop floor. Even if you already know CNC turning, you'll find some interesting stuff in the Cutting tools and Cutting parameters videos.
The Gyan videos are built on content from CADEM NCyclopedia multimedia CNC training software.
Here's the link to the videos: https://www.youtube.com/playlist?list=PLTWOD0ZVNAuGpDfvV117JOD3_bz4U4cyp
You can either click on 'Play all' to view the whole series in order, or view them one at a time.
Action point
Want to train someone on CNC technology ? Just put her/him in front of a screen with the Gyan videos for 1.5 hours, with a packet of popcorn.
Etc.
Marriages are made in Heaven, Marriage cards are made in Menaka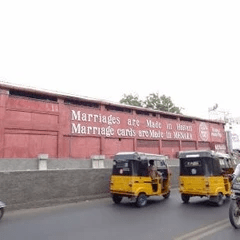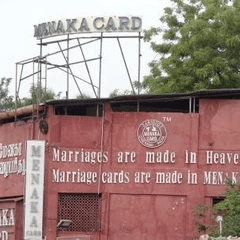 I saw the office of this interesting firm in Chennai recently, from the road. Their sole business is making invitation cards for various occasions. Luckily for Menaka, there'll never be a shortage of occasions because of the huge variety of religions in India, and the Indian practice of making anything at all into an occasion. There are cards designed for various religions, and of course cards for the usual occasions – birthday, engagement, wedding, house warming. There are even cards for the ear piercing ceremony of children, the first public performance of a dance student (that's called an Arangetram), and 60th and 80th birthdays (that are big occasions in the South). Menaka calls the ear piercing card an 'Ear boring' card, which I found funny as a machining guy ("Oh yeah, do you mean Rough boring or Finish boring?").
Menaka has an active web site where you can buy cards online. Interesting, even if you're not looking for a card – take a look sometime when business is dull (which is mostly, nowadays :)) and you're sitting around boredly.
Menaka, by the way, is the most beautiful of the Apsaras – beautiful, supernatural female beings who inhabit heaven in Hindu and Buddhist mythology. Like this sculpture in Belur, in Karnataka, that's about 1000 years old.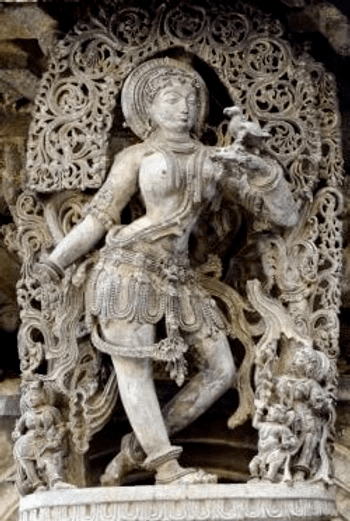 Apsara, Belur temple